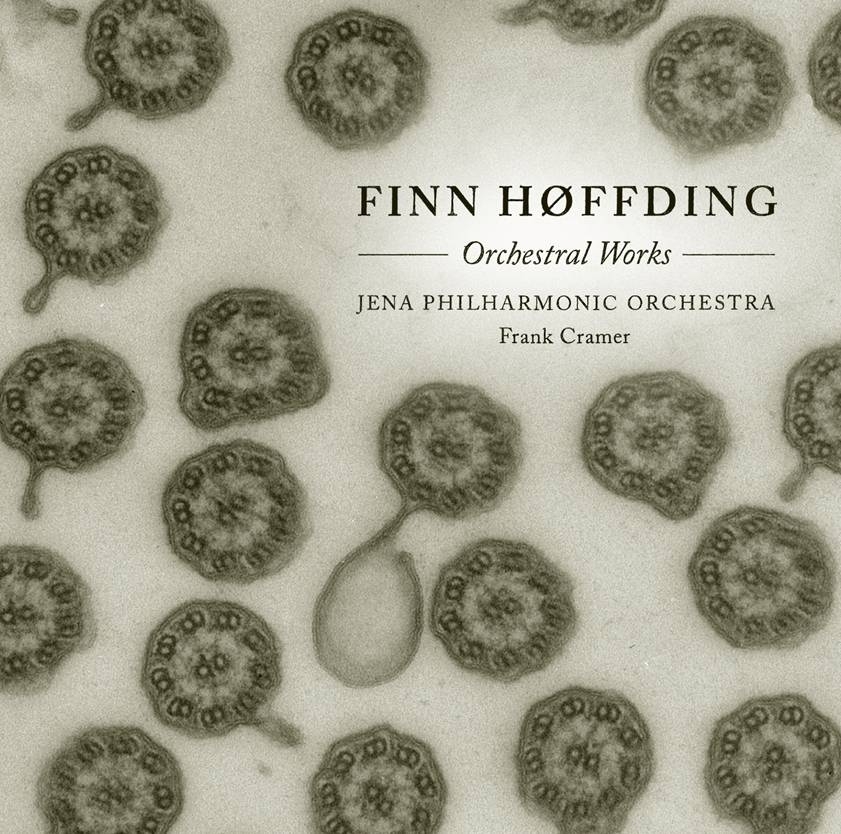 Finn Høffding
Orchestral Works
---
Jena Philharmonic Orchestra
Frank Cramer

1. Evolution (Symphonic Fantasy For Orchestra No. 1), OP. 31 (1939)
2. Det Er Ganske Visit (It Is Perfectly True), OP. 37 (1943)
3. Symphony No. 3, OP. 12 (1928)
REVIEWS
The Jena Philharmonic's playing under Frank Cramer's sympathetic direction is a delight, and Dacapo's sound is excellent. These performances repay repeated listenings, the hallmark of a splendid disc.
Guy Rickards (Gramophone, Great Britain - September 4, 2012)
The name Niels Høffding (1899-1997) is worldwide rather unknown, though in his home country Denmark the composer, for many years, used to be a very central and formative figure of Scandinavian music life.That, 15 years after his death, a representative profile of his orchestral works could be released on a CD of the Danish Label Dacabo Records - which emerged as not onlyworth to be heard, but rather to be virtually top-class - we first of all owe to Høffding country man and popular scholar Per Novgård. He, as a Høffding-connoisseur, provided the music assortment of the CD as well as written part of the booklet texts... The Jenaer Philharmonics, conducted by Frank Cramer, submitted an immaculate interpretation and enriched the repertoire of three highly-interesting orchestra scores 'made in Denmark'.
Burkhard Schäfer (Neue Zeitschrift für Musik, Germany - May 2012)
We celebrate this impassioned discovery and are highly enthusiastic about the tremendous joy of listening it! The German performers, an exemplary Thüringer Orchestra, which exists since 1934, and his from Essen orginating conductor Frank Cramer, who studied with Horst Stein, refuse every pretencious concession and every inappropriate reduction, and with this triumph with the rediscovery of these unnoted masterpieces.
Jean-Luc Caron (Classica, France - May 1, 2012)
The German Frank Cramer offers more nuanced accounts of these two scores... His Third Symphony is as magisterial as this great score demands and deserves… This release is essential to anyone interested in 20th-century Scandinavian repertoire.
Paul A. Snook (Fanfare, USA - August 10, 2012)
Recovered Opulence
It is the great chance of excellent orchestras in the so called boondocks, to position themselves on the CD-sector with hidden rarities. Well considered, the Jenaer Philharmony takes advantage of this chance, whom recently has come out with an unusual record... Now the Jenaer under Frank Cramer are presenting a complete Hoeffding CD, which contents two premiered recordings.The three pieces from three decades show the arbitrary hand writing of the Master in the most fascinating way. Late Romantic opulent Evolution (1939) develops a stunning colorfulness.The in 1943 originated Det er ganske vist shows a way for European modernism, beyond the well-trodden tracks and the third Symphony from 1928 already presents a mature composer. Frank Cramer, an approved partner of the Jenaer Philharmony, understands how to make use of the capacities of the orchestra, in the sense of a balanced and likewise record-suitable sound pattern and conclusive dramaturgy.
Dr. Tatjana Mehner (Ostthüringische Zeitung, Germany - June 7, 2012)
Rarities
Dedicated and accurate in every detail Frank Cramer took a stand for, in this country barely known Danish composer Finn Høffding (1899-1997), who studied in Vienna by Joseph Marx and changed from the Late Romantic to the quaintly Neoclassic.
Ernst Naredi-Rainer (Kleine Zeitung, Austria - June 11, 2012)
At any rate the symphony is shapely, potent, dramatic, and powerful without eccentricity or bombast—well worth seeking out for listeners drawn to modern-but-mainstream symphonic music.
Mark L. Lehman (American Record Guide, USA - August 16, 2012)
EXTERNAL_LINK
MORE_INFORMATION
---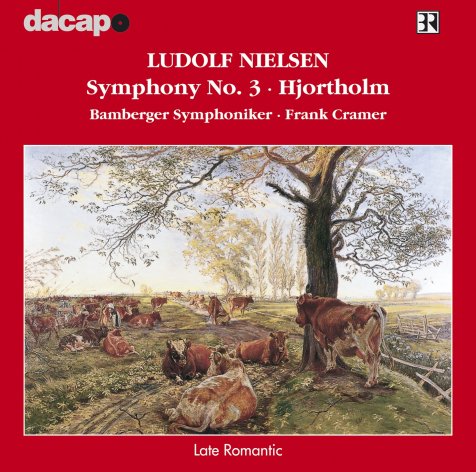 Ludolf Nielsen
Symphony No. 3
---
Bamberger Symphoniker
Frank Cramer

Symphony No. 3 in C major op. 22 (1911-13)
1. I Andante con moto - Poco piu moto
2. II Allegretto agevole
3. III Andante lento, pastorale
4. IV Andante lento - Allegro maestoso
Hjortholm - Symphonic Poem op. 53 (1923)
5. Hjortholm - Symphonic Poem op. 53 (1923)
REVIEWS
Conductor Cramer (a German, born in Essen) leads sensitive and sensible performances.The orchestra plays splendidly, with real feeling for the music. The recording (September 1999 in Bamberg) is clean, crisp, and clear – all one could ask for!
McLain (American Recording Guide - Sept. / Oct. 2000)
It is a superb and deeply moving reading that invites a wide audience for this previously unrecorded symphony, and had I to choose just one highlight of this listening year, this it would have to be, by a wide margin.
Michael Jameson (The Fanfare - Nov. / Dec. 2000)
This is a magnificent orchestral piece, deeply romantic in its delicacy of sensations and epic structure, full of soaring melodies, sensuous in sound (never again did Nielsen write for a larger orchestration), but clear and manifest in structure: a wonderful alternative to the long time classics of Romanticism.
Andreas Obst (FAZ - July 14, 2000)
EXTERNAL_LINK
MORE_INFORMATION
---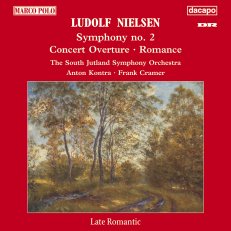 Ludolf Nielsen
Symphony No. 2
---
South Jutland Symphony Orchestra
Anton Kontra, Violin
Frank Cramer

1. Concert Overture in C major op. 13 (1906)
2. Romance for Violin and Orchestra op. 20 (1908)
Symphony No. 2 in E Major op. 19 (1907-09)
3. I Andante maestoso - Allegro con brio
4. II Andante con sentimento
5. III Allegro ma non troppo, con spirito
6. IV Lento - Allegro vivace
REVIEWS
The playing of the South Jutland Symphony Orchestra is perfect, and the conductor gives the impression that he has been occupied all his life with nothing else but the work of Ludolf Nielsen. I think this recording of Symphony Nr.2 sounds much better than the one recorded with Ole Schmidt.
(High Fidelity (DK) - December 1997)
EXTERNAL_LINK
MORE_INFORMATION
---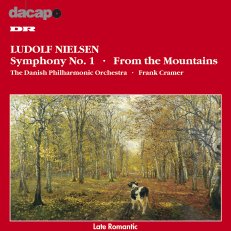 Ludolf Nielsen
Symphony No. 1
---
The Danish Philharmonic Orchestra
Frank Cramer

Symphony No. 1 in b minor OP. 3 (1902-03)
1. I Lento - Allegro energico
2. II Andante mesto
3. III Allegro pastorale
4. IV Finale: Allegro con brio
From the Mountains OP. 8, (1903-05), Symphonic Suite
5. I The Castle Ruin
6. II The Shepherd
7. III The Mountain Chapel
8. IV Folk Life in the Valley
REVIEWS
Frank Cramer and the solid orchestra show a fine sense for precisely graded sound registers, favoured by Nielsen. Those interpretations are sensitive and have a wide range of dynamics.
Michael Stenger (Fono Forum - March 1999)
Together with the Danish Philharmonic Orchestra, Frank Cramer managed sonorous and colourful interpretations, which turn into an emphatic plea for this long forgotten composer.
Jochen Berger (Coburger Tageblatt - July 24, 1999)
EXTERNAL_LINK
MORE_INFORMATION
---
Nader Mashayekhi
fié ma fié, moulana
---
Salar Aghili, vocals
Münchner Rundfunkorchester
Frank Cramer

1. fié ma fié II (for Persian chant and Orchestra)
2. moulana (for Persian chant and Orchestra)
---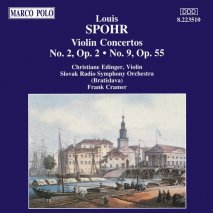 Louis Spohr
Violin Concertos Nos. 2 and 9
---
Christiane Edinger, Violin
Slovak Radio Symphony Orchestra (Bratislava)
Frank Cramer

Violin Concerto No. 2 in D minor, Op. 2
1. I Allegro moderato10
2. II Adagio
3. III Alla Polacca
Violin Concerto No. 9 in D minor, Op. 55
4. I Allegro
5. II Adagio
6. III Allegretto - Rondo
---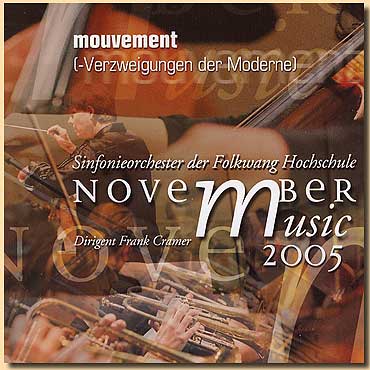 Folkwang Hochschule
November Music 2005
---
Sinfonieorchester der Folkwang Hochschule
Frank Cramer

1. Anton Webern - Passacaglia für Orchester op.1
2. Helmut Lachenmann - Mouvement (vor der Erstarrung)
Witold Lutoslawski - Concerto for Orchestra
3. Intrada
4. Capriccio Notturno a Arioso
5. Passacaglia Toccata a Choral
---