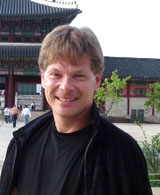 Frank Cramer was born in Essen, Germany, were he studied conducting at the Folkwang University of the Arts. He completed his studies at the University for Music in Hamburg with Horst Stein. After his first engagement at the State Theater in Oldenburg, he performed at the Theatre of Würzburg in the position of the vize principal conductor from 1980-88. In result of his celebrated success with Verdis Aida in the Arena Sferisterio di Macerata in 1989, Frank Cramer has been invited to concert halls and opera houses throughout Europe, (a.o. Vienna, Zurich, Basel, Bern, Budapest, Florence, Turin, Genoa, Sevilla, Berlin, Dresden, Cologne, Hamburg, Düsseldorf - Duisburg) the USA, Eastern Asia and South Africa. His broad repertoire ranges from Mozarts' Le Nozze di Figaro to Wagners' Tristan und Isolde and Strauss' Salome to Bergs' Wozzeck and Lulu.
In concerts Frank Cramer favors the composers Beethoven, Mozart, Mahler and particulary Bruckner. Further more devotes himself to non-main stream composers, like the late romantics Zemlinsky, Korngold and Nielsen or composers like Messiaen, Lutoslawski, Schönberg, Berg and Webern. His immense concert repertoire results from his long term cooperation with orchestras such as the RAI National Symphony Orchestra Turin, the Orchestra della Toscana Florence, the Orchestra dell'Arena di Verona, the Bern Symphony Orchestra, the Radio Symphony Orchestra Basel, the Bamberg Symphony Orchestra, the WDR Cologne Radio Orchestra, the Jena Philharmonic Orchestra, the Real Symphony Orchestra of Sevilla, the National Orchestra des Paysde la Loire, the Helsingborg Symphony Orchestra, the Philharmonic Orchestra of Nice, the Orchestra of the Teatro Lirico di Caligari, the Philharmonic Orchestra Budapest, the Hungarian National Philharmon, the Korean Symphony Orchestra and the KZN Philharmonic Orchestra Durban. Frank Cramer has been invited to many Festivals such as the Biennale Munich, the Budapest Spring Festival (Hungarian National Philharmony) the reputated Seoul International Music Festival and the Tongyeong International Music Festival in South-Korea.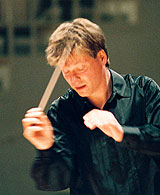 Numerous radio- and television productions for the West German Radio, the Bavarian Radio, the ZDF, the MDR Leipzig, the Swiss Radio DRS, the South Korean Radio and Television KBS, the South Korean Television Arirang and the Radiotelevisione Italiana (the RAI National Symphony Orchestra Turin) show his artistic work. For the Label Dacapo, Frank Cramer conducted the complete symphonies by the Danish late-romantic composer Ludolf Nielsen with the Bamberg Symphony Orchestra and the Danish Philharmonic Orchestra. Also of great acknowledgement was his recording of several works by the Danish composer Finn Høffding for the Label Dacapo with the Jena Philharmonic Orchestra.
In addition to his work as guest conductor, Frank Cramer worked as professor for conducting at the University of Music Karlsruhe, Germany from 1988 to 2009. In 2009 he was appointed to the professorship of opera and music theatre at the University of Music and Performing Arts Graz KUG. There, he directed numerous opera productions with the singing students and the opera orchestra of the university until 2021.
Frank Cramer resides in Munich and Graz.