Durban, Republic of South Africa
KZN Philharmonic Orchestra

Frank Cramer, conductor

O. Respighi: Fontane di Roma ("The Fountains of Rome")
M. Ravel: Boléro
A. Dvorak: Symphony No. 9 "From the New World"
---

Graz, Austria
Domenico Cimarosa: Il matrimonio segreto
University of Music and Performing Arts
Singers of the Opera Institut
Orchestra and Chorus of the University of Music and Performing Arts

Frank Cramer, conductor
Alexander Irmer, stage director

---

Warsaw, Poland
Master class in conducting
Fryderik Chopin University of Music
---
Finn Høffding - Orchestral Works
Jena Philharmonic Orchestra

Frank Cramer, conductor

CD Recording for Dacapo records
Recorded at the Jena Concert Hall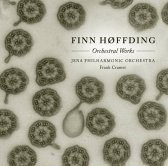 The Jena Philharmonic's playing under Frank Cramer's sympathetic direction is a delight, and Dacapo's sound is excellent.These performances repay repeated listenings, the hallmark of a splendid disc.
Gramophone, Great Britain, September 4, 2012
The Jenaer Philharmonics, conducted by Frank Cramer, yield an immaculate interpretation and enhance the repertoire about three most interesting orchestra scores 'made in Denmark'.
Neue Zeitschrift für Musik, Germany, May 2012
... We celebrate this impassioned discovery and are highly enthusiastic about the tremendous joy of listening it! ...
Classica, France, May 1, 2012
The German Frank Cramer offers more nuanced accounts of these two scores--- His Third Symphony is as magisterial as this great score demands and deserves. This release is essential to anyone interested in 20th-century Scandinavian repertoire.
Fanfare, USA, August 10, 2012
---

Graz, Austria
Engelbert Humperdinck: Hansel and Grethel
University of Music and Performing Arts
Singers and Chorus of the Opera Institut
Orchestra of the University of Music and Performing Arts
Children's choir of the Opera House Graz

Frank Cramer, conductor
Barbara Beyer, stage director

---

Graz, Austria
W. A. Mozart: Le nozze di figaro
University of Music and Performing Arts
Singers of the Opera Institut
Orchestra and Chorus of the University of Music and Performing Arts

Frank Cramer, conductor
Barbara Beyer, stage director

---

Graz, Austria
Stefaniensaal, Karl-Böhm-Konzert
Orchestra and Chorus of the University of Music and Performing Arts

Frank Cramer, conductor
Marianna Szivkova, soprano

Alban Berg: Three fragments from Wozzeck
Alexander von Zemlinsky: Die Seejungfrau ("The Mermaid")
---

Jena, Germany
Volkshaus
Jenaer Philharmonie

Frank Cramer, conductor
Thorleif Thedéen, violoncello

Finn Høffding: Evolution - Symphonic fantasy for orchestra op.31
Joonas Kokkonen: Concert for violoncello and orchestra
Carl Nielsen: Symphony no.5 op.50
---